Turns a 96-well plate into a precise real-time oxygen consumption reader
Lucid Scientific's Resipher empowers researchers to precisely measure oxygen consumption directly in standard microplates. The system's patented dynamic optical oxygen sensors provide the highest sensitivity without disturbing cells. Resipher's super-compact profile sits directly in your incubator or workstation.
Resipher data is explored through Lucid Lab – a web-based, real-time logging and analysis software, providing fast and easy data visualisation for each well being monitored. Scientists can now watch their cellular experiments real-time from their computer or remotely via smartphone or tablet.
Real-time analysis
Resipher continuously monitors cell culture oxygen consumption inside the incubator. Data is streamed real-time to the cloud so you and your team can view on any connected device.
Use your current media
No need to reformat your workflow for analysis!
Innovative sensing
An array of ultra-sensitive dissolved oxygen sensors developed by Lucid performs dynamic vertical micro-movements that scan oxygen gradients formed by metabolically active cells.
Novel insights
Resipher provides researchers never-before-seen insights into dynamic cellular responses. High resolution gradient data for each well provides more in-depth analysis.
Cloud driven platform
Data is securely streamed through our cloud infrastructure as experiments happen. Our cross-platform app – Lucid Lab – enables your team to manage experiments, monitor performance, visualize data and share results from anywhere.
Consumption resolution 5 fmol/mm2/sec
Concentration sensitivity < 1µM
Time resolution < 30 mins
Resipher dimensions (mm) 128 (W) x 86 (D) x 15 (H)
Run up to 8 devices from one hub
Lucid's cross-platform web application allows teams to create and manage experiments, stream and monitor data from devices in real-time, and generate plots that are ready for publishing. Collaboratively record observations and events through the interface, share plots and experiments, and work from anywhere with full featured desktop and mobile versions.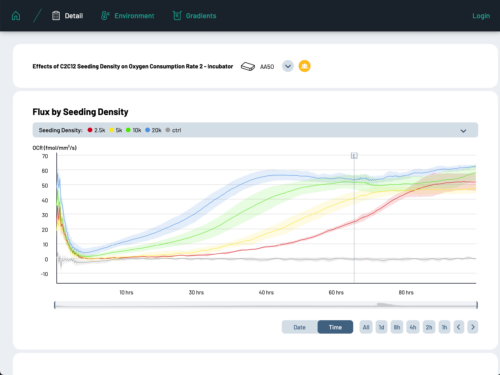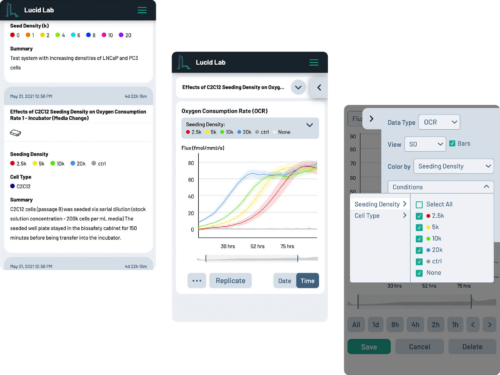 Algae
Amphidinium carterae, S major
Bacteria
E. coli
Human bone
SW1353, 143B
Human brain
U87
Human brain endothelial
hCMEC/D3
Human breast
MDA-MB-231, MCF7
Human epithelial
HeLa
Human kidney
HEK 293
Human large intestine/colon
HCT116, DLD1
Human liver
HepG2
Human lung
WI38, A549, CALU-3
Human macrophage
KG-1, MV-4-11
Human neurons
hESC
Human prostate
PC-3, InCAP, DU-145
Human renal proximal tubule epithelial cells
RPTEC
Human retinal
H-RPE
Human stem
iPSC-RPE, E16
Human T lymphocyte
Jurkat
Human umbilical vein endothelial cells
HUVEC
Monkey kidney
Vero
Mouse hippocampal
HT22
Mouse macrophage
RAW 246.7
Mouse muscle
C2C12
Musculus (mouse) calvaria
MC3T3
Rat muscle
L6
Worm
C. Elegans
Other
Cardiomyocytes, Osteoblast, Osteoclast, Macrophage, Adipocyte, Fibroblast, Mesenchymal stem cells, iPSC – ECs, C16, Zebrafish embryos